Since I released them last year, my antlers have been one of the items I see most often when I'm walking around or browsing fashion blogs. I love the whimsical quality they can add to avatars and they can make a perfectly realistic outfit have a taste of wild fantasy. Antlers are just visually delicious, and I really can't get enough of them.
So I've finally returned to well-trodden ground which I think a lot of people were hoping I would, and created a completely new set utilizing my freshly developed oblong sculpt skillz.
Inspired by Allegory Malaprop (
Schadenfreude
) and her own curly antlers, I got her blessing to create my own rendition. Taste wise, she and I cover a lot of the same ground. Florissinae isn't an actual genus of deer obviously, if it ever was they would have been hunted down long ago for their awesome headgear. Just like the previous antlers, these are texture change to twelve different lovely options.
The entire reason I made these, though, was that curly antlers are fabulous for decorating with baubles. I've been wanting to make properly decorated holiday antlers for a couple years now and the time was finally right!
These... are so much fun to play with. The antlers themselves are scripted to change, but so are the decorations! I owe a shout out to Sobriquet Kryakutnoy, for without him you would have no Multi option (shown). I would have had to make them a whole separate pair of antlers or something, so major kudos to him. Aside from the festive multi-color version, you can play with having white lights and blue ornaments, red lights and red ornaments, green, white, whatever! There are twelve options to play with to make these antlers incredibly versatile, which makes them awesome to wear through the whole month and not
only
on those days you feel like wearing the classic red and green.
The gorgeous and talented
Evangeline Miles
kindly demonstrated this in a few pictures on her plurk ♥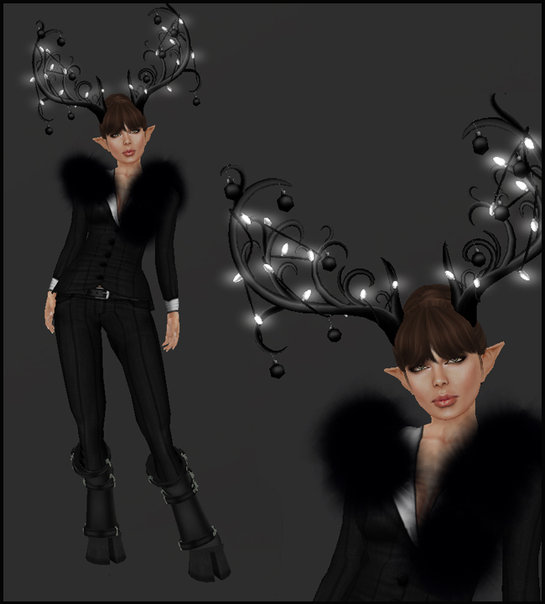 Edited to add: And Ann Launay struts her stuff with her favorite, the cyan ornaments with white tips:
http://www.sluniverse.com/snapshots/425392.png
They're available now at the store, and as always you can grab a scripted demo to give them a test drive :)